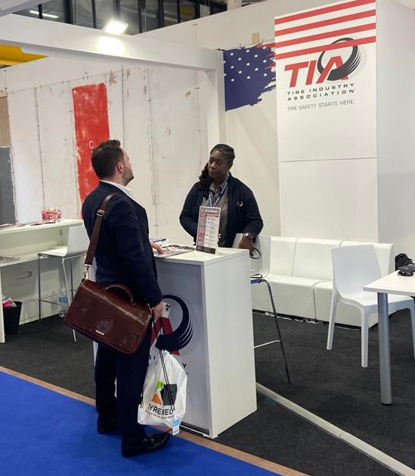 The Tire Industry Association (TIA) is an international association that represents all segments of the tire industry, including those that manufacture, repair, recycle, sell, service or use new or retreaded tires, and also those suppliers or individuals that furnish equipment, materials, or services to the industry.
TIA brings together members from more than 40 countries around the world enabling them to stay competitive and connected in the global marketplace. This network of more than 13,000 members gives you the invaluable benefit of global communication.
TIA works to address the needs of today's globally oriented tire businesses and to provide an important international forum to exchange ideas and help strengthen relationships with businesses throughout the world.
Training and Certification
Through our Web- and DVD-based classroom courses and workshops, TIA international member companies can take advantage of some of the world's best training opportunities that are designed specifically for the tire industry. Technician training certification also is available to TIA international member companies. TIA international members receive a discount on training and certification programs and materials.
Networking and Events
The Global Tire Expo (GTE) - Powered by TIA, part of the Specialty Equipment Market Association (SEMA) Show, takes place each year in late October or early November at the Las Vegas Convention Center in Las Vegas, Nev. The show provides ample opportunity for global networking with more than 25% of all buyers at GTE and the SEMA Show coming from more than 100 countries outside the United States.
TIA's annual Off-the-Road Tire (OTR) Conference takes place each February in a warm weather, resort location. Recent OTR Tire Conference locations include Puerto Rico, San Diego, California, Hawaii and Florida. The OTR Tire Conference offers exhibits, workshops, seminars, leisure programs and other special events that are designed as networking opportunities to help you enhance your business.
TIA supports and attends many international trade shows including The Latin American & Caribbean Tyre Expo, Autopromotec, Tyre Cologne and Automechanika Dubai.
Today's Tire Industry
Today's Tire Industry magazine is your source for staying informed on all that is happening with TIA and its members. Today's Tire Industry provides extensive coverage in every issue on these industry markets: Tire Retailing, Commercial (truck & fleet) Tire Service, Tire Retreading & Repairing and Tire & Rubber Recycling. International TIA members receive online access to an electronic copy (.pdf format) of this publication.
Membership Directory
TIA International Members receive access to the online membership directory.
Government Relations
TIA keeps its members informed on legislative issues – both in the U.S. and internationally – that affect the industry.