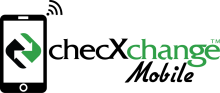 Have You Received a Bounced Check Recently?
NEW from MTSI, the innovative and revolutionary, one of a kind, checXchange Mobile™ App!
Finally, there is a NO COST, fast and simple way to easily deal with all the Bounced NSF checks that your business receives!
checXchange Mobile™ allows you to use your Android, iPhone or iPad to scan all bounced NSF checks that you receive and send them to our processing center in a secure environment for recovery. That it, it's that simple! Snap. Tap. Recover!
checXchange Mobile™ is a NO COST service and 100% of all recovered items are transmitted to your account upon recovery.
The App is Free to Download
There is NO COST to Your Business to Use this Service
Industry Leading 75.6% NSF Check Recovery Rate
100% of Recovered Funds are transmitted upon Recovery
Comprehensive Online Reporting
Fast, Simple Enrollment & Set Up
100% Secure, Encrypted Environment
Replaces Your Existing Bad Check Collection Efforts
Increases Your Overall Cash Flow and Profitability
We use a proprietary solution to strategically re-present bounced checks in order to achieve an industry leading recovery rate of 75.6%, which is 3 to 5 times greater than in-house efforts.
checXchange Mobile™, the first to market Mobile App for NSF Check Recovery is brought to you by Money Transfer Systems, Inc. This revolutionary App utilizes the exact same safe, secure and proven Remote Deposit Capture technology that is used in Mobile Deposit.
Money Transfer Systems, Inc. is a national leader in electronic check re-presentment and recovery services. Throughout our nine year history, we have consistently achieved an industry leading NSF recovery rates and we currently partner with over 150 banks nationwide and do business with hundreds of thousands of merchants nationwide as well.
To find out more about our company, please visit our main website here.
Also, please feel free to contact Mel Ora for more information at 727.499.7002 X103 or email him at mel@achxchange.com.
Automatic Check Recovery