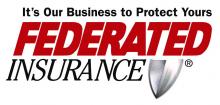 TIA is proud to partner with Federated Insurance to help you with your business insurance needs. Through our exclusive endorsement of Federated you have access to their property & casualty, workers' compensation, and life & disability insurance. In addition, you have the ability to utilize their risk management resources to help you control losses and maintain a safe workplace.
Founded in 1904, Federated specializes in creating tailored products and services for the tire industry. Their Tire Shield® program was designed by tire dealers for tire dealers to protect your business and your bottom line. Federated's Self-Insured Retention program is a unique tool allowing dealers to take on more risk in exchange for upfront premium savings. Many members have reported receiving significant savings through this program. In addition to offering a wide range of insurance products at a competitive rate, you'll also have access to personal service by a Federated Marketing Representative. Federated will provide you with a thorough review of your current coverage and analysis of your business needs including business succession, estate planning, and employee retention strategies.
Federated Insurance is an established, reputable, and secure insurer, and is rated A+ (Superior) by A.M. Best®, a respected insurance rating authority. Just like TIA, you can rest assured that Federated Insurance will work hard to earn – and keep – your trust. Give them a call at 800.533.0472 for a free, no-hassle, no-obligation review of your current coverage, and see for yourself!
For more information click here.
Complimentary Risk Management Materials Order Form - fillable
Business & Workers' Compensation Insurance