TIA is committed to providing the most comprehensive educational services available to the tire industry.
From hands-on training and certification for experienced technicians, to basic online training for new hires, TIA offers programs that can be used by large and small companies alike.
Basic 200-Level Online Training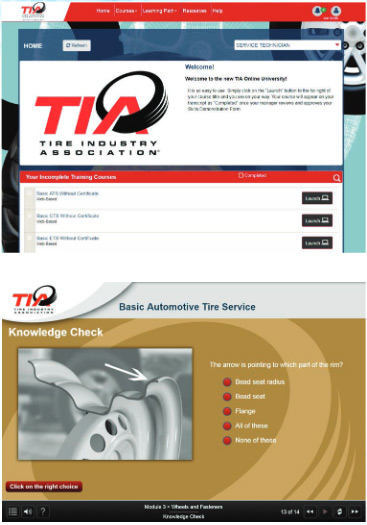 The TIA Online University offers technicians the most comprehensive, up-to-date tire service training anywhere there is an internet connection! Our Basic-Level training is designed for new hires as part of their orientation and also can be used for experienced technicians in need of documented training. Each course is focused on one type of tire size, so each shop can choose which courses are right for their employees:
The TIA Online University also has intro courses available for sales, counter or other office staff.
Certified 300-/400- Level Courses
TIA's Certified Instructor Programs (400 Level) are the most advanced level of training that we offer. The combination of classroom instruction, hands-on participation and demonstrations creates a unique learning environment for students. Those who pass are qualified to conduct TIA Certified Technician Courses (300 Level) in the field. This train-the-trainer concept creates an industry network of professionals who can educate technicians across the globe.
TIA offers Certification Courses for Automotive, Commercial and Earthmover Tire Service. TIA offers several Certified 400-Level Instructor classes each year across the U.S. Having an in-house Certified Instructor allows you to efficiently train your own employees without having to rely on an outside source. Check the Training Calendar for Instructor Classes near you!
While TIA does not offer scheduled Certified Technician Courses (300 Level), we do have a Certified Trainer Directory that you can search for a TIA Certified Instructor near you.